The Wonderful Wine Regions of Croatia
Discover the unknown wine regions of Croatia. The Mediterranean Sea is home to some of the world's most incredible landscapes, blue waters, flavorful dishes, and outstanding wines. In spite of its relatively small size, Croatia is an amazing country bursting with culture and natural beauty.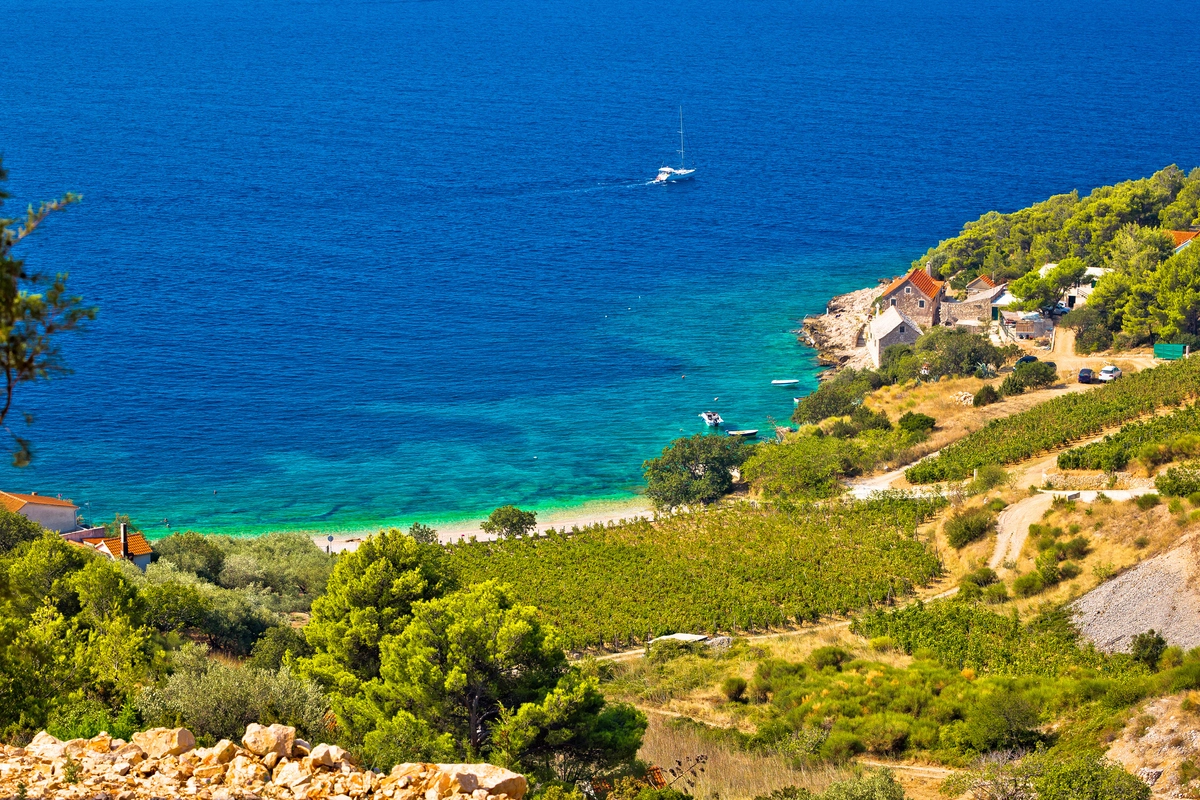 Croatia is widely touted for its idyllic islands, mountains, and waterfalls. At the same time, its long history of winemaking remains a secret to many. Discover the Croatia Wine Regions on a Croatia Luxury Yacht Charter.
Home to over 140 native grapes, exceptional wine is made in every corner of the country. It is divided into four distinct wine regions – Istria and Kvarner, and Dalmatia hug Croatia's Adriatic coast. The Croatian uplands, Slavonia, and Danube cover the northeastern continental area of the country.
Wine Regions of Croatia | Istria
At first glance, much of the Istrian Peninsula and islands of Kvarner could be mistaken for their more famous neighbor, Italy. The once Austro-Hungarian, Italian, and Yugoslavian land of northwest Croatia is today a harmonious blend of cultures and landscapes.
Wines from this region have both continental and coastal characteristics, thanks to diverse climates and soils. As a result, the wine is of high quality.
This ancient wine region's most common grape variety is a tremendous and age-worthy white called Malvazija Istarka (Malvazija of Istria), grown primarily along the Adriatic on the western part of the Istrian Peninsula. Malvazija makes intriguing, floral, fruit-forward wines from bone dry and fresh to sweet and buttery.
A robust grape, Malvazija wines are complex. And they are often characterized by tropical fruit and peaches followed by a long, citrus peel finish. Unlike most whites in Croatia, Malvazija is sometimes macerated (fermented with the skins for some time, like a red wine).
They also make orange wines with decidedly more body, tannin, and structure. There is a growing realization of Malvazija's potential, and it is becoming a premier wine tourism destination.
Wine Regions of Croatia | Kvarner
Further south, the Kvarner area has a notable white grape called Zlahtina, a lower-alcohol grape from the island of Krk. Compared to the medium to heavy-bodied Malvazija, Zlahtina is light, with notes of pear or citrus. It is a superb match for seafood.
Heading inland, the continental climate of central Istria is perfect for the native red Teran (or Terrano) grape. An earthy, rustic grape with high-acid and spicy notes, Teran is great when young and develops even more character and complexity when aged.
Indigenous grapes like Teran have spurred a revival of Croatia's native grapes, including red varieties such as Sansigot and Refosk. Like most of Croatia, however, international varieties like Merlot and Cabernet Sauvignon are also grown, along with Chardonnay, Yellow Muscat, Pinot Gris, Muscat, and Pinot Blanc.
Dalmatia – Southern Croatia
Dalmatia is Croatia's most famous summer playground and home to the country's oldest wine region, dating back 2,500 years. Situated along the Adriatic Sea, Dalmatia begins with the city of Zadar in the north, stretches to the border of Bosnia-Herzegovina in the east, and meets Montenegro in the south.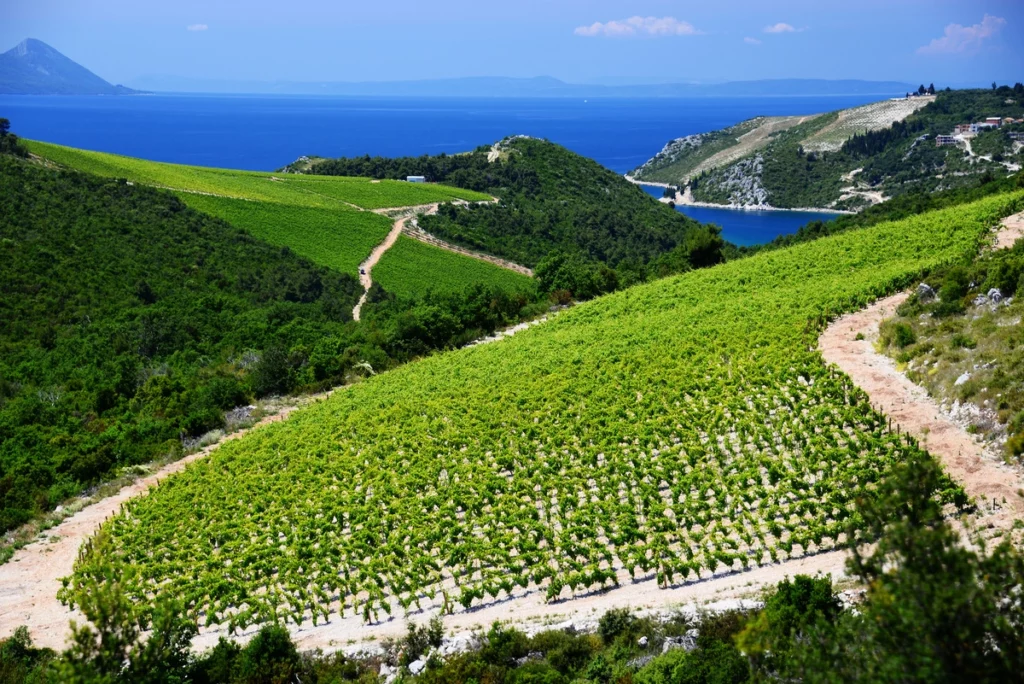 Wine production concentrates on the Peljesac Peninsula, Hvar, Brac, Korcula, and Vis. Hvar is notably home to the world's oldest continuously cultivated vineyard, a UNESCO World Heritage Site.
Red Wines
In contrast to Croatia's other wine regions, reds reign supreme in Dalmatia, specifically from indigenous grapes. Plavac Mali, a bold, dark fruit variety with high alcohol and lower acid, is the region's most planted and iconic red.
These varietal wines show differently according to the microclimate and soil, ranging from light and crisp inland to austere along the coast. The highest quality Plavac Mali comes from sunny, steep vineyards overlooking the Adriatic, around Dingac and Postup on the Peljesac Peninsula, Ivan Dolac on Hvar, and throughout Brac.
Zinfandel
Dalmatia is also home to Crjenak or Tribidrag, otherwise known as Zinfandel. 2002 studies have recently proven that this well-known grape is indigenous to Dalmatia. It was later brought to Puglia, Italy, where it's called Primitivo, and to the U.S.A., where it's called Zinfandel.
White Wines
One cannot mention Dalmatia without raving about the region's native white, Posip, originally from the island of Korcula. It is often compared to Viognier. It's full-bodied with ripe fruit, flowers, and herbs along the coast and lighter and more restrained inland. Additional native whites are Grk, Debit, and the fruity, high acid, red grape Babic.
Wine Regions of Croatia | Uplands – North-Central Croatia
White wine lovers, look no further. The Croatian Uplands region is a haven for crisp and clean white wines. Sitting east of Slovenia and the southwest of Hungary, the Uplands wine region encompasses the Capital of Zagreb and the surrounding areas.
The soil, hilly terrain, and excellent climate conditions are essential to the Uplands' high-quality winemaking. Cold winters and abundant sunlight are perfect for high-acid, herbaceous expressions of white wines. The weather also provides excellent conditions for sparkling wines, especially in Plesivica. Moreover, the region comprises small, family-run vineyards, some of which farm organically.
If you love Gruner Veltliner, you will adore Skrlet, a bright and lively white from Moslavina. Fans of Riesling can dive into Pusipel or Moslavac (Furmint in Hungary). A more complex, age-worthy white from Medimurje. In addition to indigenous wines, you are spoilt for choice amongst the Sauvignon Blanc, Pinot Gris, Pinot Blanc, and Chardonnay vines. These dominate the hillsides along with the lesser-known Rhein (Rajnski) Riesling, Welschriesling, and Yellow Muscat grapes.
Light red enthusiasts can also find great Pinot Noir and Blaufrankish to try. No matter your preference, you will undoubtedly find a new favorite wine in this dynamic, premium wine region.
Slavonia and Danube – Northeastern Croatia
Nestled between Hungary, Serbia, and Bosnia-Herzegovina, you will find the northeastern wine region of Slavonia and the Danube. It spans from the western cities of Virovitica and Daruvar to the Danube River in the east.
The region produces most of Croatia's wine due to its large-scale industrial wineries. Like the neighboring Uplands, white grapes dominate this region, revered for its Slavonian oak barrels, used by top European winemakers.
Grapevine Cultivation
Grapevines have been cultivated throughout Slavonia-Danube since Roman times. They thrive, most notably, in the Kutjevo region. In the shadow of a small mountain range in the region's center. Grasevina (also known as Welschriesling), the region's most widely planted and iconic white grape, does its best. Grasevina is made in a wide range of styles.
Where to Try Wines While in Croatia
Here are some specific wineries located in coastal Croatia:
Saints Hills Winery. Saints Hills Winery is located in Dingac on the Peljesac Peninsula and is known for its high-quality Plavac Mali red wines.
Korta Katarina Winery. Korta Katarina Winery, located in Dingac, produces award-winning Plavac Mali wines and offers tastings and tours of their vineyards and winery.
Kabola Winery. Kabola Winery is situated in the Istrian region near Momjan and specializes in Malvazija and Teran wines, using organic and sustainable farming practices.
Vina Caric. Vina Caric, located on Hvar island, produces organic wines from local grapes such as Bogdanusa, Parc, and Plavac Mali.
Benmosche Family Winery. This winery is in the town of Ston on the Peljesac Peninsula. It produces various red and white wines using traditional methods, including Plavac Mali and Posip.
Bibich Winery. Bibich Winery is located in Skradin near Sibenik. It produces wines from local grapes such as Debit and Plavina and international varieties like Merlot and Cabernet Sauvignon.
These are just a few examples of the many wineries along the Croatian coast, each offering unique wines and experiences.
Cuisine and Wine Pairing
Croatian cuisine is diverse and flavorful, and many local dishes pair perfectly with the country's wines. Here are some examples of local cuisines that go well with Croatian wines:
Peka. Peka is a traditional Croatian dish with meat, seafood, and vegetables. The ingredients are slow-cooked under a bell-shaped lid. Peka pairs well with red wines such as Plavac Mali, which has a bold flavor that matches the dish's richness.
Grilled fish. Croatia is known for its fresh seafood, and grilled fish is a popular dish along the coast. White wines such as Malvazija or Posip pair well with grilled fish, as they complement the delicate flavor of the seafood.
Passticada. A Dalmatian stew made with beef, vegetables, and prunes, served with gnocchi. Passticada pairs well with full-bodied red wines such as Dingac or Babic.
Octopus salad. Another popular seafood dish, octopus salad, is made with boiled octopus, olive oil, and vinegar. This dish pairs well with white wines such as Malvazija or Zlahtina.
Truffles. Croatia is home to some of the best truffles in the world, often used in local dishes such as pasta or risotto. Truffle dishes pair well with full-bodied red wines such as Teran or Merlot.