Cres
ACI Marina Cres is a marina located in Cres, situated on Cres's island in Croatia. It is a popular destination for boaters and yachters exploring the Adriatic Sea and the Croatian coastline.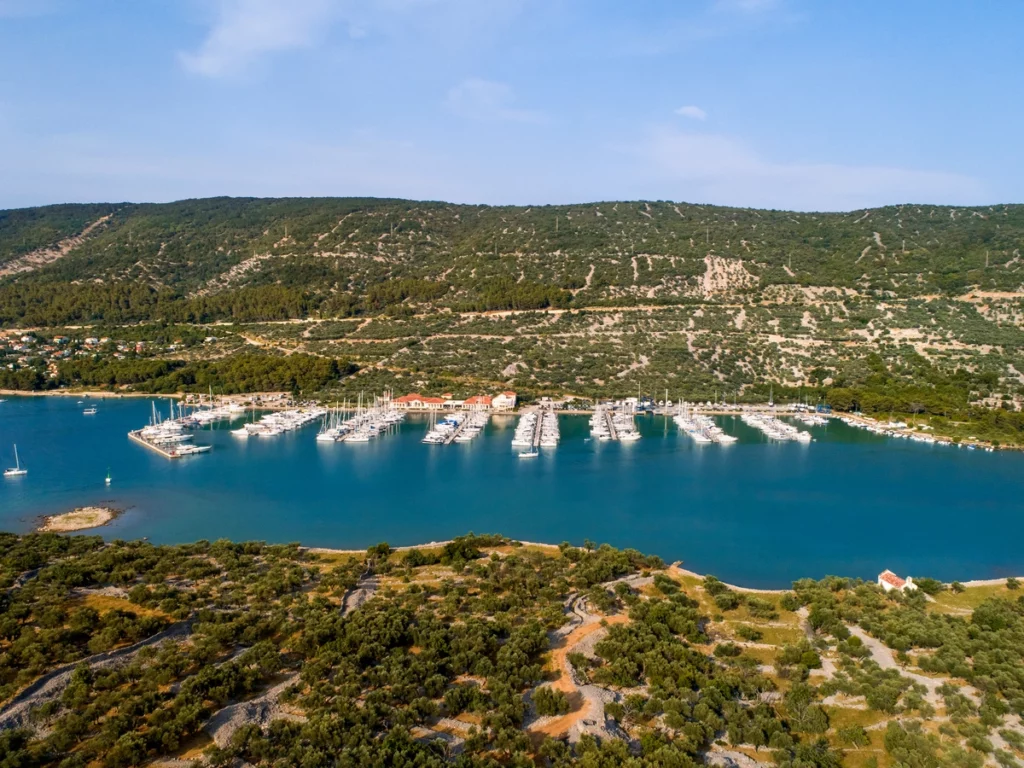 Facilities
ACI Marina Cres offers a range of facilities and services for boaters, including mooring and berthing for boats and yachts up to 40 meters long, with a maximum draft of 4 meters. The marina has 447 berths in total, and it provides water and electricity hookups, a fuel station, showers and toilets, laundry facilities, Wi-Fi, a grocery store, and a restaurant.
Services
The marina provides various services to boaters, including 24-hour reception and security, boat repairs and maintenance, and boat rental services. There is also a travel lift with a capacity of 40 tons for lifting and launching boats and a slipway for smaller vessels.
Amenities at ACI Marina Cres
Reception with an exchange office and ATM
Wi-Fi internet access
A restaurant that serves local Croatian cuisine
Grocery store
Toilet and shower facilities with separate disabled provision, launderette
Repair and maintenance shop
Tesla and Only Destination Charge, Tesla Universal Destination Charge
Rent a Bike
Number of berths: 460
Location Highlights | ACI Marina Cres
Cres is known for its stunning natural beauty, rugged coastline, crystal-clear waters, and pristine beaches. Cres is a historic town with narrow streets, medieval buildings, and a picturesque harbor. It is also a popular destination for outdoor enthusiasts, with opportunities for hiking, cycling, and exploring the island's unique flora and fauna.
Activities
Cres has several beaches along its coastline, some child-friendly with shallow waters and sandy or pebble shores. Children can enjoy swimming, building sandcastles, and playing in the water. Adults can swim, kayak, snorkel, and relax.
Cycling
Cres has designated bike paths offering opportunities for cycling enthusiasts. Renting bikes and riding along coastal roads or the scenic countryside can be an enjoyable way to explore the island. Have your chef pack a picnic for your journey!
Exploring the Town
Cres is a historic town with narrow streets, medieval buildings, and a picturesque harbor. Visitors can explore the town's old town area, visit historical sites such as the Church of St. Mary, the Cres Town Museum, and the Venetian Tower, and experience the local culture and way of life.
Visit Cres Aquarium
Cres Aquarium is a small marine aquarium located in the town of Cres, near the marina. It features local marine life from the Adriatic Sea, including various fish species, marine invertebrates, and sea turtles. It can be an interesting educational experience for both children and adults.
Restaurants Near ACI Marina Cres
Several restaurants and eateries near ACI Marina Cres offer various cuisine options. Some of the restaurants near ACI Marina Cres include:
Konoba Belona
This restaurant is near the marina and offers traditional Croatian and Mediterranean cuisine. It is known for its seafood dishes, including fresh fish and shellfish, grilled meats, and local specialties. The restaurant has a charming atmosphere with indoor and outdoor seating.
Konoba Bukaleta
This is a cozy family-owned restaurant in the old town of Cres, within walking distance from the marina. It offers a menu featuring local Croatian dishes, including fresh seafood, grilled meats, and homemade pasta. The restaurant has a rustic ambiance and a friendly atmosphere.
Trattoria Al Pozzo
This is an Italian-style trattoria close to the marina in the heart of Cres. It offers Italian cuisine, including pizzas, pasta, and seafood dishes, with a cozy indoor seating area and a small outdoor terrace.
Konoba U Magasa
This traditional Croatian tavern in Cres, near the marina, is known for its seafood and meat dishes and local specialties. The restaurant has a rustic interior with a warm and welcoming atmosphere.
Restoran Riva
This restaurant is located along the waterfront in Cres, near the marina, and offers Mediterranean cuisine focusing on seafood. It has indoor and outdoor seating with panoramic views of the sea and the marina.
Follow us
Subscribe to our newsletter and receive valuable updates on yacht charter information, the newest yachts available, and expert recommendations