Rovinj
ACI Marina Rovinj is one of the Adriatic coast's most modern and beautiful marinas.
Croatia's stunning coastline along the Adriatic Sea is a dream destination for yacht charter vacations. With its crystal-clear turquoise waters, scenic islands, and charming coastal towns, it has become a top sailing destination in Europe.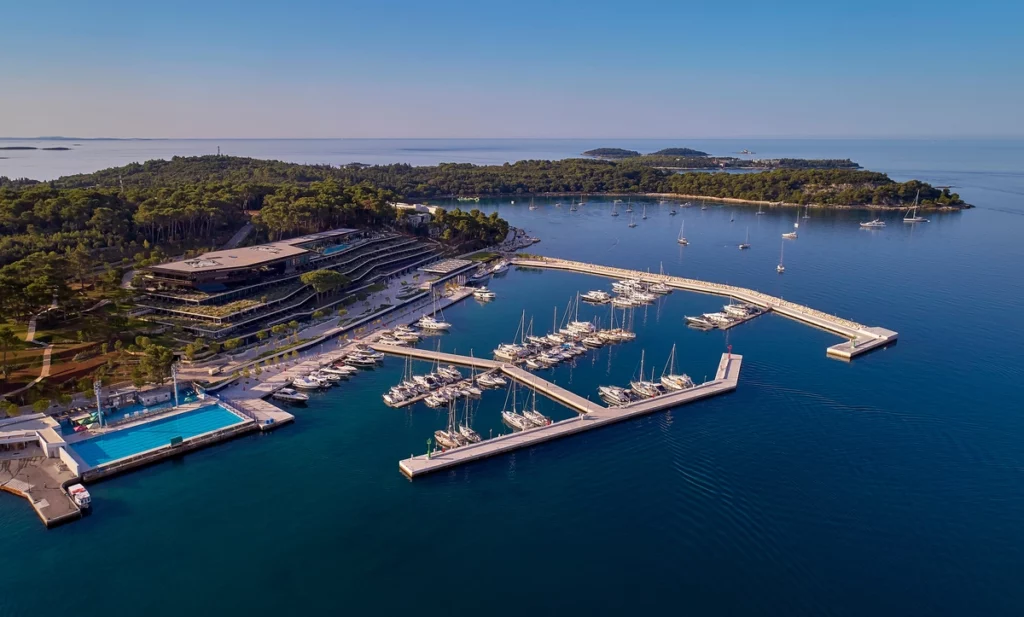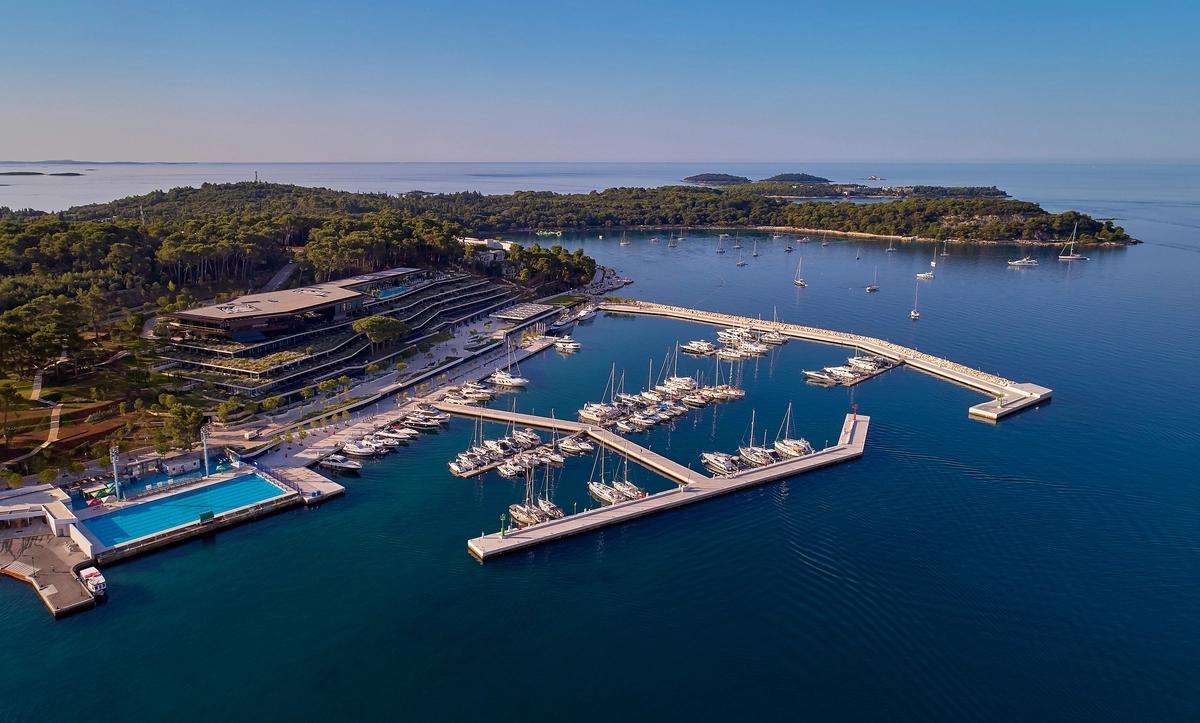 Location
The marina, operated by ACI Club, is nestled in a protected bay on the western coast of the Istrian Peninsula. The marina is strategically located, providing easy access to the open sea and the nearby islands of the Rovinj Archipelago.
The marina's location also provides stunning views of the Rovinj skyline, dominated by the iconic Church of St. Euphemia, which sits atop a hill overlooking the town and the sea.
Amenities
The marina has over 380 berths with modern pontoons that accommodate boats up to 35 meters. There are also water and electricity hookups, Wi-Fi, a fuel station, and 24-hour security.
In addition to its excellent facilities, a vibrant waterfront promenade is lined with trendy bars, restaurants, and shops. Enjoy strolls along the promenade, indulging in delicious local cuisine, or relax with a refreshing drink while taking in the panoramic views of the marina and the town.
The marina's restaurant offers a diverse menu with fresh seafood, Mediterranean specialties, and local Croatian dishes.
Activities
Here are some activities near ACI Marina Rovinj:
Explore the Old Town of Rovinj
The historic old town of Rovinj is just a short walk from the marina and is a must-visit destination. With its narrow cobblestone streets, colorful houses, and charming squares, the old town is a maze of medieval architecture with a unique atmosphere. Explore the town's many art galleries, shops, and boutiques, and soak in the vibrant local culture.
Visit the Church of St. Euphemia
Perched on a hill overlooking Rovinj, the Church of St. Euphemia is a prominent landmark that offers breathtaking panoramic views of the marina, the town, and the surrounding sea. Climb the bell tower for a stunning vista or explore the church's interior, known for its Baroque architecture and beautiful frescoes.
Enjoy Water Sports
The nearby Adriatic Sea's pristine waters offer ample water sports opportunities. Go snorkeling or diving to explore the underwater world, teeming with marine life, and paddleboarding, kayaking, or windsurfing to enjoy the azure waters and stunning coastal scenery.
Visit Brijuni National Park
Brijuni National Park is a group of 14 islands known for their natural beauty, wildlife, and historical heritage. Explore the lush Mediterranean vegetation, spot deer and other wildlife, visit the archaeological sites, and take a guided tour to learn about the park's rich cultural history.
Attend Cultural Events
Rovinj is a vibrant town with a thriving arts and culture scene; events and festivals often occur yearly. From music concerts and art exhibitions to traditional folk performances and cultural celebrations, there's always something happening in Rovinj that offers a glimpse into the local culture and traditions.
Shopping
Rovinj Market. A vibrant outdoor market offering fresh produce, local cheeses, olive oils, wines, and other Croatian specialties.
Arto. A boutique shop with a wide selection of local artisanal products, including handmade ceramics, jewelry, textiles, and souvenirs.
Svijet Glazbe. A music store that offers a wide selection of vinyl records, CDs, musical instruments, and accessories.
Lavanda & Co. specializes in lavender products, including essential oils, soaps, perfumes, and other cosmetics.
Ulika. Sweets shop offers handmade chocolates, truffles, and other sweet treats made from local ingredients.
Rovinj Heritage Museum Shop. Located within the Rovinj Heritage Museum, this shop offers a selection of books, postcards, and souvenirs related to the history and culture of Rovinj and Istria.
Modni Studio. A boutique clothing store that offers trendy and stylish clothing for women and men, including local and international fashion brands.
Viva la Bicyclette. A bike shop that offers bike rentals, sales, and repairs. They have a variety of bikes to choose from, including mountain bikes, city bikes, and electric bikes. Rent a bike and go for a spin around the town.
Please note that shop names and availability may change, so it's always best to check for the most up-to-date information.
Restaurants Within Walking Distance
Located in the heart of the old town of Rovinj, Restaurant Monte is a popular fine dining establishment that offers a unique culinary experience. The restaurant has received numerous accolades for its exceptional food, elegant ambiance, and attentive service, making it a must-visit for food enthusiasts.
Puntulina
Overlooking the marina and the Adriatic Sea, Restaurant Puntulina is a popular seafood restaurant that offers a picturesque dining experience. With its charming terrace perched on the rocks, the restaurant serves fresh seafood, grilled meats, and Istrian specialties in a relaxed and romantic atmosphere. It's known for its stunning views, friendly service, and delicious seafood dishes.
Kantinon
Restaurant Kantinon is a cozy eatery that serves traditional Istrian cuisine tucked into a narrow street in the old town. The restaurant offers a warm and welcoming dining experience with its rustic ambiance and homely feel. The menu includes local favorites such as Istrian pasta, truffle dishes, and grilled meats, all prepared with locally sourced ingredients.
Barba Danilo
Barba Danilo is in a historic building featuring a rustic interior with stone walls and wooden beams. The restaurant offers authentic Croatian cuisine cooked to perfection.
Follow us
Subscribe to our newsletter and receive valuable updates on yacht charter information, the newest yachts available, and expert recommendations