Croatia National Parks | Explore Extreme Beauty
Nature is the foundation of the Croatian experience. Croatia has eight national parks – Kornati, Krka, Mljet, Brijuni, Paklenica, North Velebit, Risnjak, and Plitvice. All but Plitvice are on the coast, so you can visit them as part of your sailing holiday. Here we take a closer look at each of Croatia's national parks.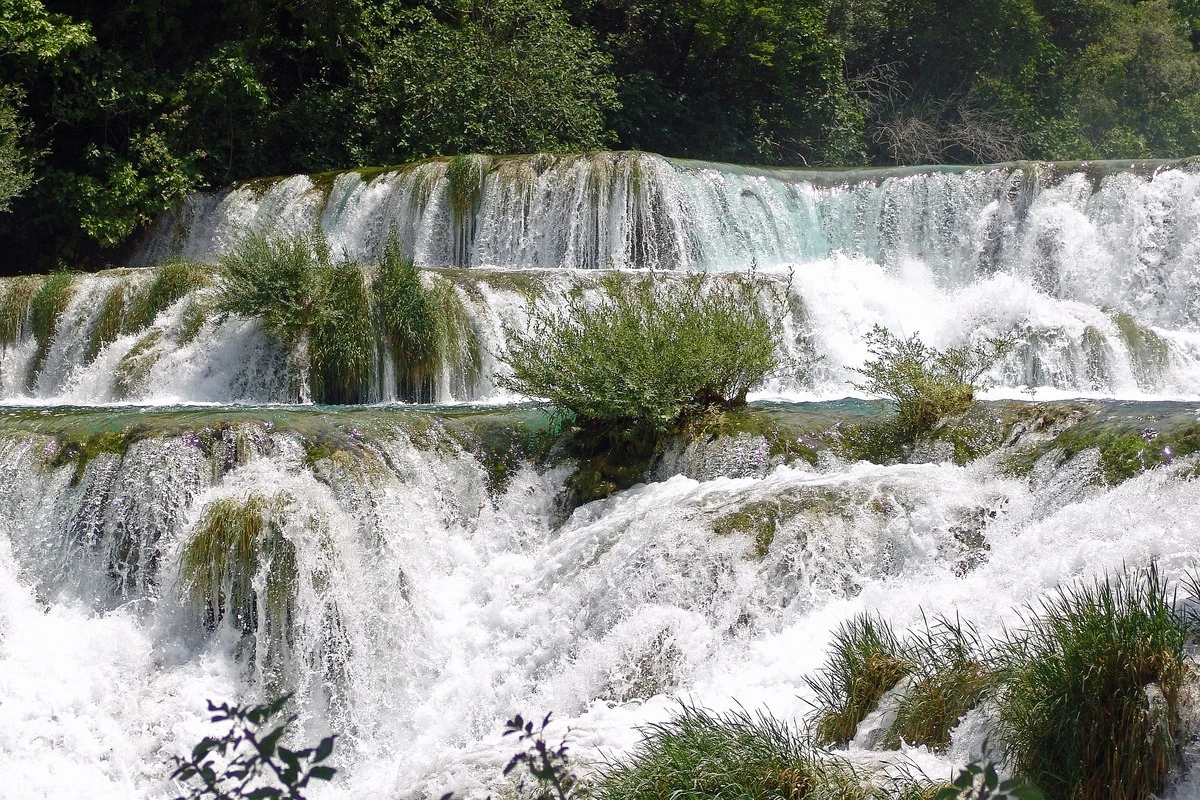 Yacht charters frequently visit Kornati National Park. In fact, some people plan their entire itinerary around this destination. You might sail here from Zadar, Sibenik, or Split.
Kornati National Park is a true gem of Croatia's natural heritage. Located in the central part of the Adriatic Sea, it encompasses a stunning archipelago of 140 uninhabited islands, islets, and reefs, covering a total area of about 220 square kilometers.
The park's rugged terrain has sharp cliffs, stone fields, and wild shrubs shaped by the sea, wind, and sun over the centuries. The unique landscape provides a feeling of remoteness and isolation.
The best way to explore Kornati National Park is by boat. The park's crystal-clear waters offer some of the most excellent snorkeling and diving opportunities in the Adriatic. The rich marine life includes dolphins, sea turtles, and schools of colorful fish.
Croatia National Parks | History Abounds
In addition to its natural beauty, Kornati National Park is also home to a rich cultural and historical heritage. The islands are dotted with ancient stone walls, stone shelters, and shepherd's huts, which are reminders of the centuries-old human presence in the area.
Stone Walls
The stone walls, known as "suhozidi" in Croatian, are a traditional type of dry-stone construction. Locals built them to mark land boundaries, protect crops from wind and erosion, and shelter animals.
The walls were built without mortar, using only the natural shape and weight of the stones to create a stable structure. They are still visible today, crisscrossing the hillsides and creating a unique and fascinating landscape.
Shepherd's Huts
The shepherd's huts, or "konobe" in Croatian, are small stone shelters that local shepherds used as a refuge during the long summer months when they grazed their flocks on the island pastures. The huts were typically built into the hillside, with a low stone entrance and a thatched roof made of reeds or straw. They were sparsely furnished, with a fireplace, a wooden bench, and cooking utensils. The huts provided shelter from the sun, wind, and rain and a place to rest and prepare meals.
Today, many ancient stone walls and shepherd's huts in Kornati National Park are in disrepair, abandoned for many years. However, efforts are being made to preserve and restore these structures.
Krka National Park, North Dalmatia
If sailing to the Kornati from Sibenik or Split, you should detour to Krka National Park. Sail up the winding channel to Skradin, home to a well-equipped marina. From here, catch the national park shuttle boat to Skradinski Buk.
The Krka River runs through a deep canyon within the park, tumbling over seven spectacular waterfalls. Follow signed footpaths through dense woodland of oak, ash, and pine. Then catch another national park boat to visit the 15th-century Franciscan Monastery on Visovac islet.
From Dubrovnik, you can easily sail to the island of Mljet, one-third of which is Mljet National Park. Most yachters moor up or drop anchor in Pomena or Polace. The park centers on two interconnected turquoise salt-water lakes set amid dense pinewoods.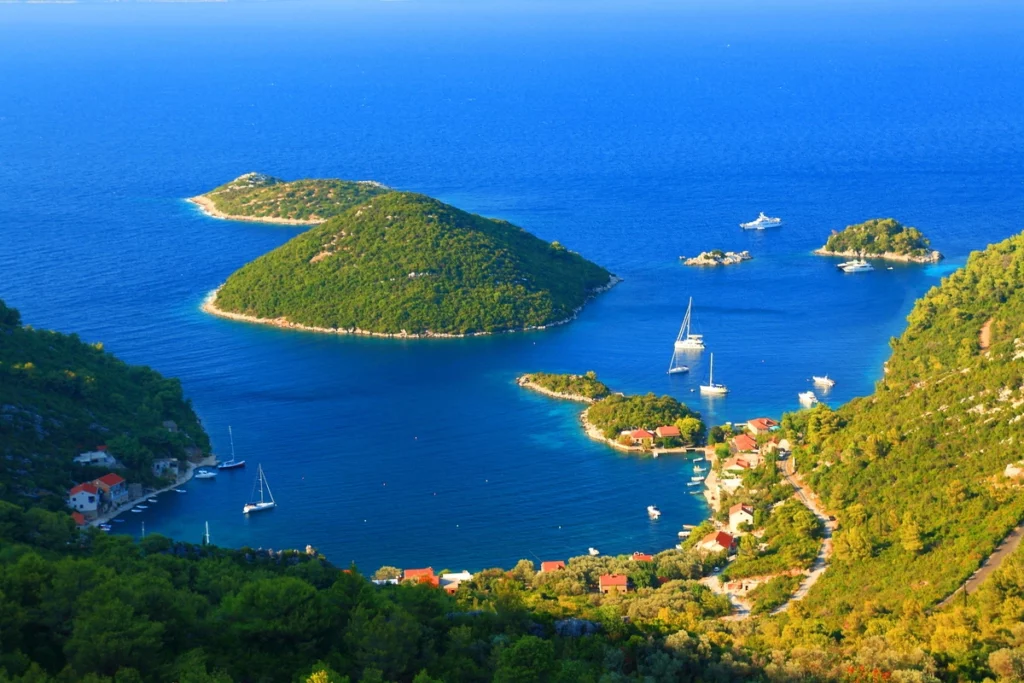 Hire bikes and cycle the larger lake's 12-kilometer (8-mile) perimeter, Veliko Jezero. Stop to catch a national park boat to St Mary's islet, capped by a disused 12th-century Benedictine Monastery. Alternatively, hire kayaks and paddle across the lake.
Brijuni National Park, Istria
One of Croatia's National Parks, Brijuni National Park, is an archipelago of 14 islands and islets. In the days of Yugoslavia, the largest island, Veli Brijuni, was President Tito's summer retreat.
It is an oasis of lush green parkland, with oaks and pine trees, populated by deer and peacocks. It has two hotels and an 18-hole golf course. You can moor in Veli Brijuni's small port, complete with services (water and electricity). Alternatively, drop anchor in St Nicholas Bay off neighboring Mali Brijuni.
Paklenica National Park, North Dalmatia
On the mainland coast, northeast of Zadar, opposite the island of Pag, lies Paklenica National Park. Its dramatic mountains, gorges, and limestone cliffs are especially loved for rock climbing. There are some 600 climbing routes – the towering crag of Anica Kuk offers the most challenging. For hikers, marked trails lead to the cave of Manita Pec and Paklenica's highest peak, Vaganski (1757 m/5764 ft).
North Velebit National Park, Kvarner
You'll find North Velebit National Park between Zadar and Rijeka, on the mainland coast, opposite the island of Rab. It encompasses spectacular mountains of white rock, green meadows, and forests of oak, beech, and pine. In addition, there's a botanical garden devoted to indigenous rock plants. Come here to explore over 30 marked trails on foot or by mountain bike.
Risnjak National Park, Kvarner
Risnjak National Park rises behind the port city of Rijeka, high above the Kvarner Gulf. This region comprises limestone mountains, highland pastures, and fir and beech forests inhabited by owls and woodpeckers. Risnjak is named after the native lynx (ris in Croatia). Visitors come here for hiking, mountain biking, and fishing for trout in the Kupa River.
Plitvice National Park, Lika
UNESCO-listed Plitvice National Park is Croatia's most visited inland destination. It centers on 16 turquoise lakes connected by waterfalls, rimmed by paths, and traversed by wooden walkways.
Immersed in the dense woodland of beech, fir, and spruce, the colors here are prettiest in spring and autumn. Plitvice lies far from the coast, so you can't combine it with sailing. But if you're flying into Zagreb, you might visit it from there.
Croatia National Parks
Visit one of these amazing natural wonders on a Croatia Luxury Yacht Charter.