Makarska
Makarska is a gorgeous Croatian destination often overlooked in favor of bigger tourist hotspots. Set in the breathtaking backdrop of the Adriatic Sea, this is a hidden gem and an ideal stop on your luxury yacht charter in Croatia.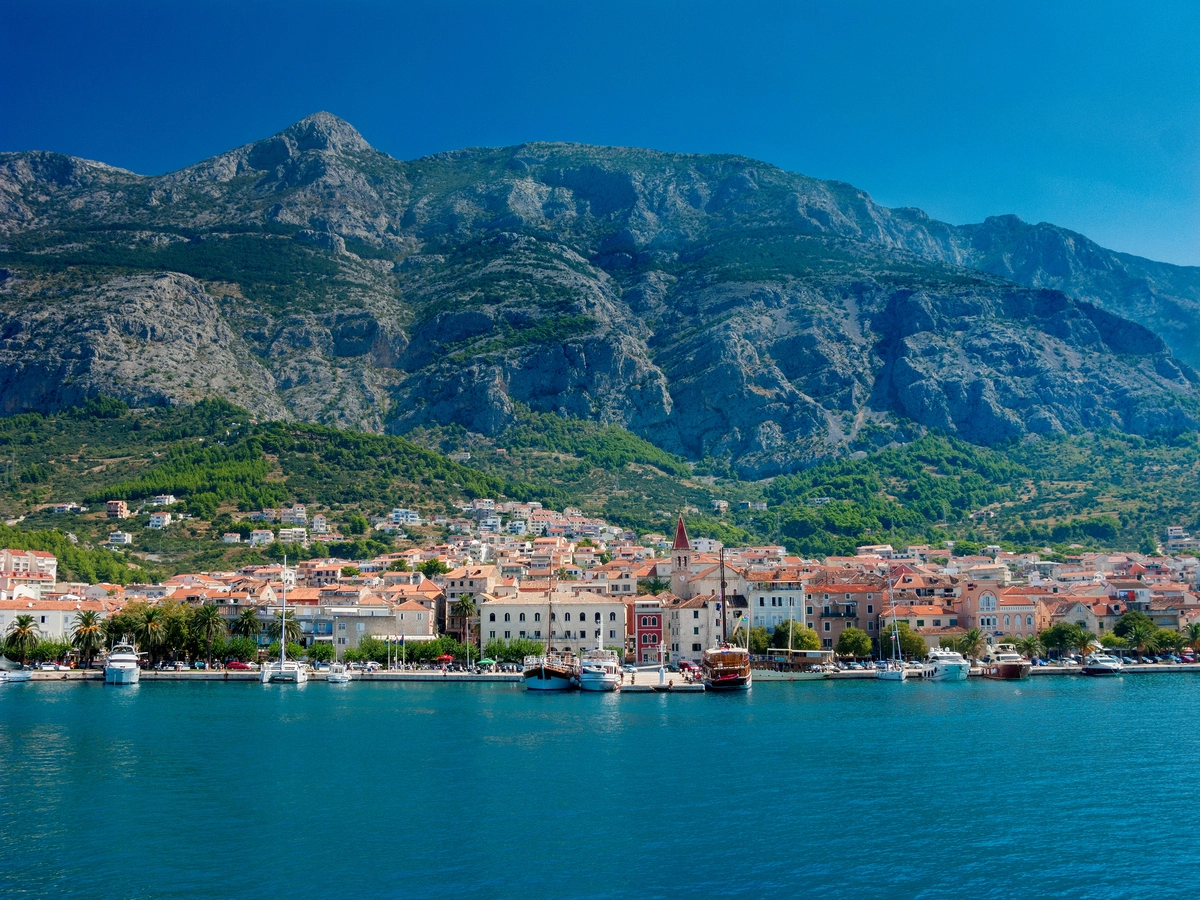 Since the mid-20th century, Makarska has flourished into a captivating tourist destination. Presently, the city boasts a population of over 15,000 residents and has a collection of charming villages at the base of the majestic Biokovo Mountain.
Renowned as one of Croatia's premier coastal destinations, the town allures visitors with its awe-inspiring natural beauty, delightful climate, diverse activities, and warm and hospitable locals.
The best Time to Visit
The best time to visit is during the summer, from June to August, when the weather is warm and sunny. During this time, the town is alive with tourists, and there are plenty of activities to enjoy.
However, if you prefer a quieter experience, consider visiting in the shoulder season from May to September. The weather is still warm, but the crowds are thinner. This time of year is ideal for exploring the town leisurely and soaking up the local culture.
Winter is also an option for those who enjoy a peaceful holiday. The town is quieter during the winter, but plenty of indoor activities and sightseeing opportunities remain. Just be prepared for cooler temperatures and fewer options for outdoor activities.
Places to See
Makarska may not be as well-known as Dubrovnik or Split, but this charming town has its fair share of must-see destinations. Here are some of the best places to visit in Makarska:
Old Town
The heart of Makarska is its charming old town, where you can stroll through narrow streets lined with stone houses and marvel at historic buildings like the 17th-century St. Mark's Church.
Biokovo Nature Park
For a breathtaking view of Makarska and the surrounding coastline, head to Biokovo Nature Park. This stunning mountain range offers a variety of hiking trails for adventurous visitors.
Franciscan Monastery
The 15th-century Franciscan Monastery is one of Makarska's most iconic landmarks. Its museum boasts a collection of historical documents and artifacts.
Seafront Promenade
Stroll along Makarska's seafront promenade, lined with palm trees and charming cafes and bars. It's the perfect place to soak up the town's laid-back vibe.
Makarska Beach
Of course, no visit to Makarska would be complete without a visit to its stunning beach. With crystal-clear waters and white pebbles, this beach is perfect for swimming, sunbathing, and people-watching.
The Kotistina Botanical Garden
This serene garden showcases a rich collection of diverse plant species, offering a tranquil oasis of natural beauty. Enjoy vibrant floral displays and a peaceful ambiance while walking its curated pathways.
Things to Do
Makarska may be a small town, but it offers many enjoyable activities. Here are some things to do while visiting Makarska:
Go to the Beach
Makarska is famous for its beautiful beaches, and there are plenty of them to choose from. The most popular beaches are the main town beach and Nugal Beach. They offer crystal-clear water and are ideal for sunbathing, swimming, and various water activities.
Take a Hike
Makarska is situated between the Biokovo mountain range and the Adriatic Sea, which means numerous hiking trails offer incredible views. One of the best hikes is the Biokovo Skywalk, a new 1.7 km long trail leading to the cliff's edge with a breathtaking view of the Adriatic Sea.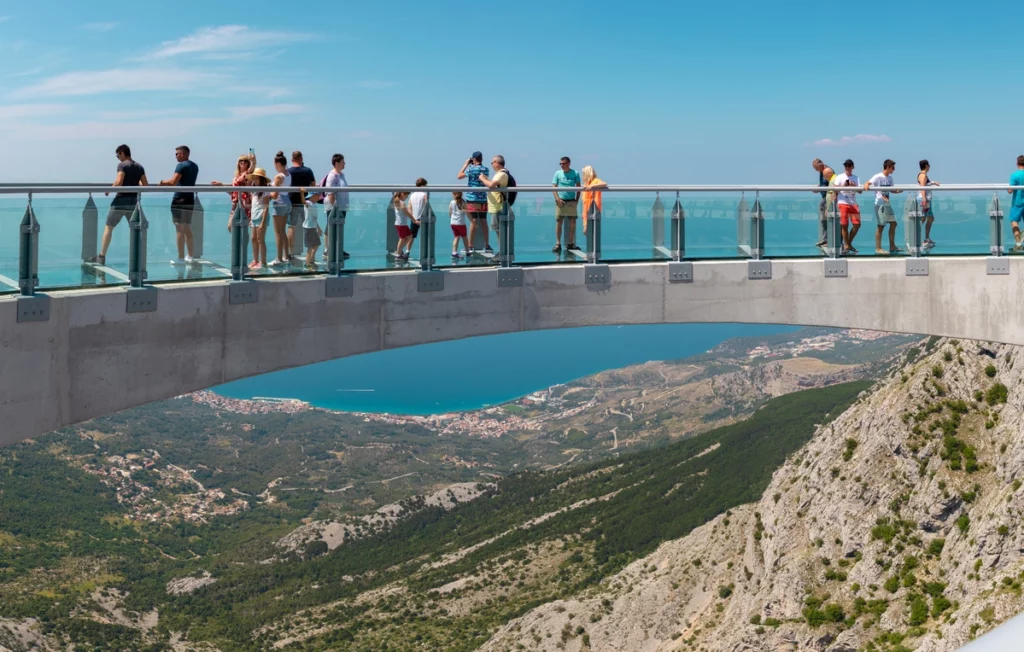 Suspended over a sheer vertical cliff, this glass-floored viewing platform offers visitors a unique vantage point to marvel at the breathtaking beauty of the Adriatic coastline and the surrounding natural landscapes.
Watersports
Makarska offers a wide range of water sports to suit everyone's taste. You can go windsurfing, kayaking, jet-skiing, parasailing, or rent a boat and explore the coast independently.
Sightsee
Makarska is rich in cultural heritage and has many historic buildings and landmarks. Some must-see attractions are the St. Mark's Cathedral, the Franciscan Monastery, the Church of St. Philip and St. Jacob, and the Malacological Museum.
Nightlife
When the sun goes down, Makarska's nightlife comes to life. There are numerous bars, clubs, and restaurants with live music, DJs, and entertainment. Here are a few of the most popular clubs:
Deep Club
This unusual club is in a cave on Cape Osejava. You can enjoy good music and crazy parties in a unique and natural environment. The club is divided into two parts. The first is on sea level, with a terrace where you can enjoy the sunset and the sound of waves. The second part is the main floor, with music and dancing.
Buba Beach Bar
Buba beach bar is located on a beautiful beach of the same name, surrounded by the sea and a beautiful pine forest. It's a great place for summer club lovers. It has a rich selection of cocktails and other drinks, a superb sound system, and lots of sun.
Spina Bar
The bar is located in a renovated 200-year-old house in the heart of the old town of Makarska. It has a cheerful, friendly atmosphere, the ambiance of the old town, and, of course, good drinks and snacks.
Dining
Makarska has a vibrant food scene, with plenty of restaurants serving traditional Croatian cuisine alongside international options. There are also numerous beachside bars and cafes, perfect for a refreshing drink or a quick bite.
For a true taste of Makarska, head to Konoba Kalalarga. This restaurant is a local favorite and for good reason. The menu contains authentic Dalmatian dishes, including fresh seafood, homemade pasta, and delicious grilled meats. Their outdoor terrace provides stunning views of the harbor, making it the perfect spot for a romantic dinner.
Another popular choice is Restaurant Jez, which specializes in seafood and Mediterranean cuisine. With a chic and elegant atmosphere, this restaurant is a great choice for a special occasion. The menu has creative and delicious dishes, from octopus carpaccio to black truffle risotto.
If you're in the mood for something a little more laid-back, go to Beach Club Punta Rata. Located on the beach, this spot offers cocktails, light bites, and classic Croatian dishes. With a relaxed and casual atmosphere, it's the perfect place to unwind after exploring.
No matter where you dine in Makarska, sample some of the local wines. Croatia has a rich wine-making history, and the Dalmatian coast is known for producing exceptional varietals. Whether you prefer reds, whites, or rosés, you will surely find a wine that suits your tastes in Makarska.
Follow us
Subscribe to our newsletter and receive valuable updates on yacht charter information, the newest yachts available, and expert recommendations