Pula
Croatia, known for its breathtaking coastline and pristine turquoise waters, is a paradise for yacht charter vacations. ACI Marina Pula, nestled in the picturesque city of Pula on the Istrian Peninsula, is a fantastic place to stop for a day or night.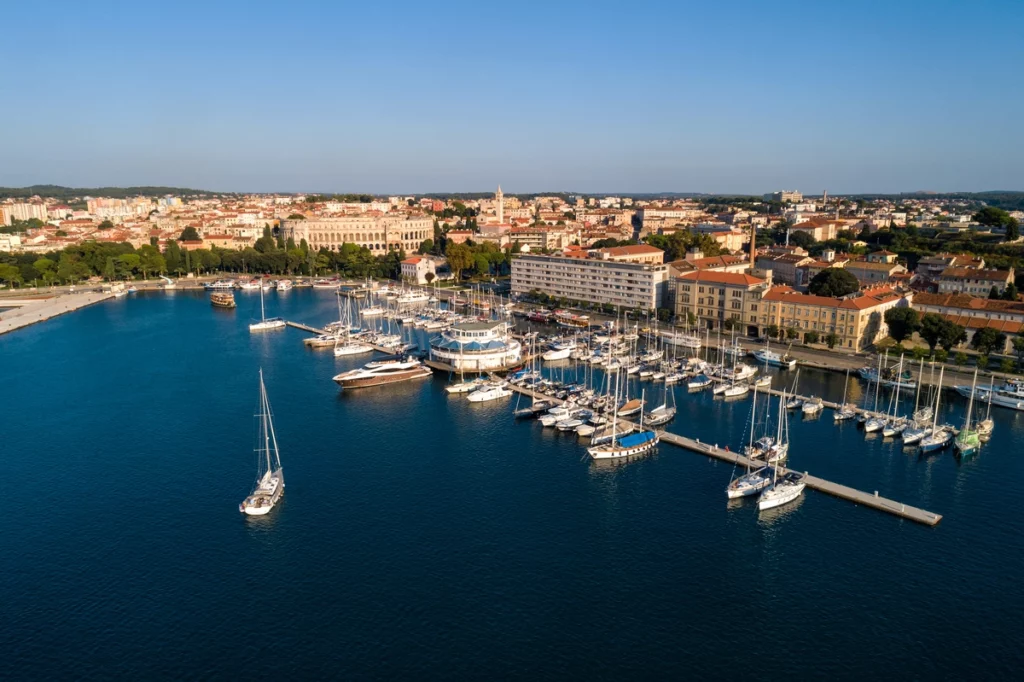 Pula is easily accessible by air, with its international airport just a short drive from the marina. The marina is also well connected by road, making it easily accessible by car. Its convenient location makes it an ideal starting point for exploring the beautiful Adriatic Sea and the stunning Istrian coastline.
As the main naval harbor of the Austro-Hungarian monarchy, this enormous natural harbor has been used since early Antiquity.
Facilities and Amenities
ACI Marina Pula offers 192 berths for yachts up to 40 meters long. The berths are equipped with water and electricity connections.
The marina also provides modern amenities such as showers, restrooms, laundry facilities, and WiFi. In addition, ACI Marina Pula has a well-stocked nautical store.
The marina's restaurant serves various tasty Croatian and Mediterranean cuisine, emphasizing fresh seafood and local flavors.
Attractions and Activities
There is no shortage of activities near the marina. Check out these favorites:
Visit Pula's historic city center, famous for its well-preserved Roman ruins, including the iconic Roman Amphitheater, also known as the Pula Arena.
Go to the beach.
See the Brijuni Islands, a national park known for its natural beauty and historical heritage,
Explore the Kamenjak Peninsula, a stunning nature reserve.
Windsurf
Kayak
Snorkel
Scuba dive
Restaurants Within Walking Distance
Here are a few examples of restaurants within walking distance of ACI Marina Pula:
Konoba Batelina
This renowned seafood restaurant is a short walk from the marina. Known for its fresh seafood and traditional Istrian cuisine, Konoba Batelina offers a rustic and cozy atmosphere. The menu features an array of seafood dishes, including fish, octopus, and shellfish, prepared with local ingredients and flavors.
Vodnjanka
Near the Pula Amphitheater, Vodnjanka is a charming family-run restaurant serving Mediterranean and Croatian cuisine. The menu includes a variety of seafood, meat, and vegetarian options, focusing on local and seasonal ingredients.
Kantina
Located in Pula's city center, Kantina is a trendy restaurant that offers a modern twist on traditional Croatian cuisine. The menu features innovative dishes with local ingredients, emphasizing fresh seafood and local flavors. Kantina also has a wide selection of wines and cocktails.
Jupiter Pizzeria
Jupiter Pizzeria is a popular choice within walking distance of ACI Marina Pula. They offer a diverse menu of pizzas, pasta, and other Italian favorites, along with a casual and friendly atmosphere.
Follow us
Subscribe to our newsletter and receive valuable updates on yacht charter information, the newest yachts available, and expert recommendations