Lastovo
Croatia has become a popular destination for luxury yacht charters. Among its many hidden gems, the island of Lastovo stands out as a captivating and lesser-known paradise.
Explore this island and its beauty. See its picturesque villages, breathtaking landscapes, historic landmarks, and vibrant traditions. Get ready to be amazed.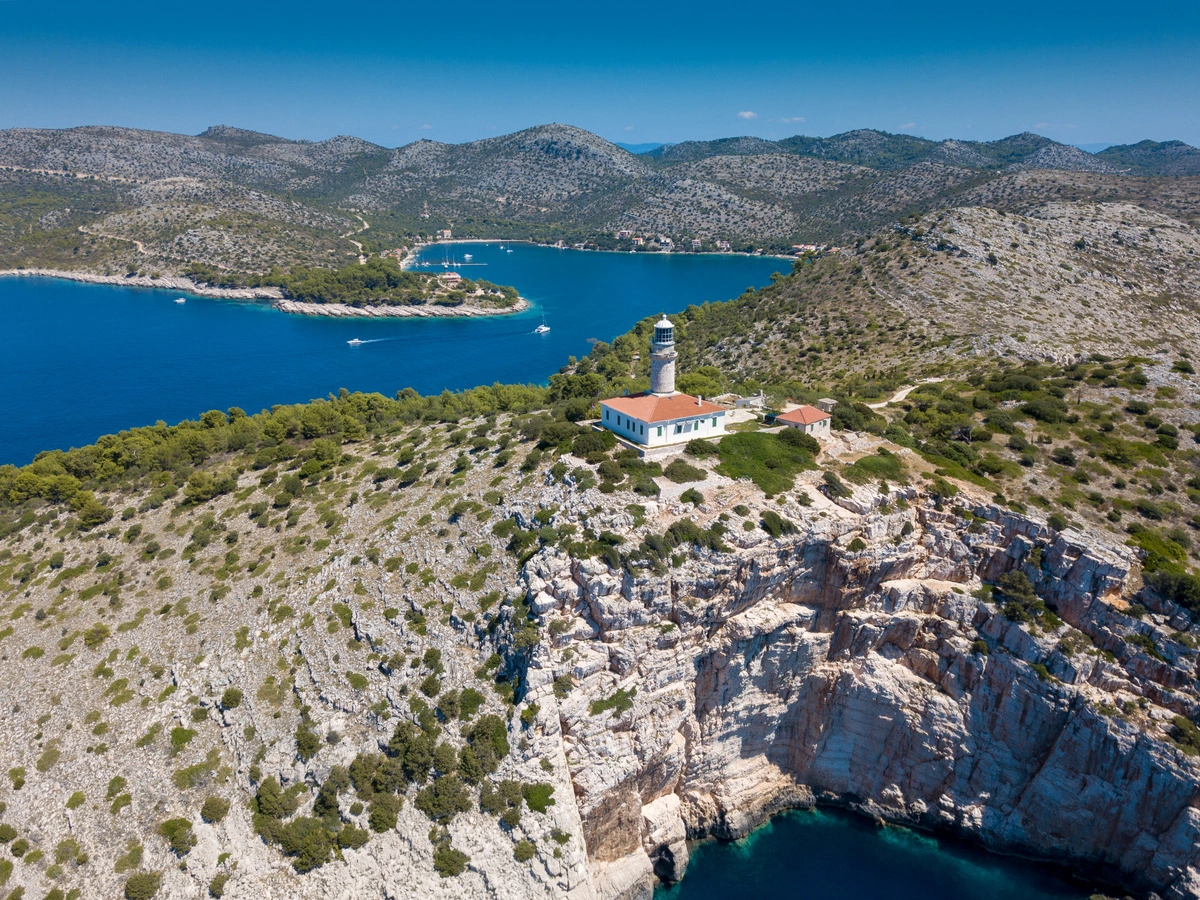 Uble Port | Gateway to Lastovo's Charms
Uble Port serves as the main gateway to the island. This charming port welcomes luxury yacht charters and provides a convenient starting point to explore the island's wonders.
As you sail into Uble Port, you'll be greeted by a picturesque waterfront. It is lined with traditional stone houses and colorful boats bobbing in the azure waters. The port offers essential amenities for yacht visitors, including docking facilities, fuel stations, and provisioning options.
Uble Port also provides an opportunity to engage with the local community and gain insight into Lastovo's cultural heritage. Strike up conversations with friendly locals known for their warm hospitality. You may even discover fascinating stories about the island's history and traditions.
From Uble Port, venture further into Lastovo's interior or embark on island-hopping adventures to nearby destinations. The port's central location makes it a convenient starting point for exploring the island.
Zaklopatnica Village | A Step Back in Time
For those seeking tranquility and seclusion, visiting Zaklopatnica village is a must. This picturesque hamlet captivates with its unspoiled nature and crystal-clear waters. Relax on your luxury yacht and take in the breathtaking surroundings or stroll along the untouched coastline.
Skrivena Luka
Often called "Hidden Harbor," Skrivena Luka lives up to its name, concealing a pristine bay between towering cliffs. This natural haven provides a serene and secluded anchorage for luxury yachts, allowing you to unwind amidst untouched beauty. Dive into the crystal-clear waters, go snorkeling to discover vibrant marine life, or sunbathe on the yacht's deck.
Pasadur Bay
Pasadur Bay offers a peaceful retreat with its two interconnected bays on the island's western side. Surrounded by lush greenery and breathtaking cliffs, this idyllic spot is perfect for swimming, kayaking, and exploring the enchanting coastline. Anchor your yacht in the calm waters and spend a leisurely day basking in the beauty of the Adriatic Sea.
The Rector's Palace
Visit the Rector's Palace, a magnificent historical monument dating back to the 15th century. Rector's Palace was a royal residence built on the most prominent site near the parish church.
Despite being rebuilt many times, it remains one of the most beautiful houses in Lastovo. With its intricate architectural details, this elegant stone palace is a museum showcasing the island's cultural heritage. Explore the exhibits, learn about the island's history, and admire the remarkable craftsmanship.
Lastovo Carnival
If your visit coincides with the beginning of February, you're in for a vibrant treat. Lastovo's Carnival, a UNESCO-protected event, showcases colorful masks, lively music, and traditional dances. Join the locals in celebrating this centuries-old tradition, where ancient customs blend with modern merriment, creating an unforgettable atmosphere.
Ancient Churches
Lastovo is dotted with ancient churches with a story and architectural charm. Explore the Church of St. Cosmas and Damian in Lastovo Village, a striking example of Romanesque architecture.
Visit the Church of St. Luke in Ubli, renowned for its exquisite stone carvings. And don't miss the Church of St. George in Pasadur, nestled in the heart of nature. The church offers a serene retreat for contemplation and reflection.
The Fumari: Unique Chimneys
One of the most distinctive features of the island's architecture is the Fumari, the traditional chimneys on the island's stone houses. These intricately designed structures are functional and serve as a symbol of Lastovo's cultural identity.
Explore the villages and admire the exquisitely crafted chimneys, each with its unique design.
Things to Do
Explore Lastovo Nature Park
Hike through the Lastovo Nature Park, a protected area encompassing over 70% of the island. Discover lush forests, secret coves, and stunning viewpoints.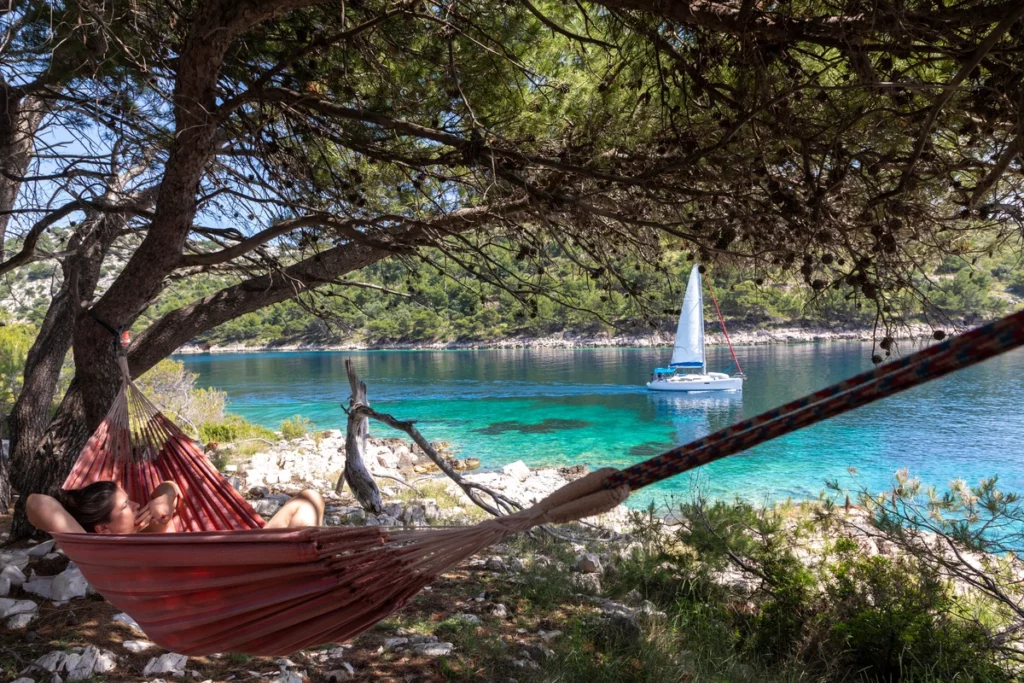 The park is more than just a natural paradise. It is also a testament to the island's commitment to environmental preservation. Because the park is protected, its unique ecosystems can be conserved.
Dive into Underwater Wonders
Lastovo is a paradise for diving enthusiasts. Dive into the crystalline waters to explore vibrant coral reefs, underwater caves, and abundant marine life. There are dive sites that are suitable for divers of all experience levels.
Some of the most popular sites are;
Islet Bijelac, an underwater passage through the island,
Islet Tajan, an underwater cave,
Cape Struga, vast walls of gorgonians
Indulge in Local Gastronomy
Treat your taste buds to the flavors of the island. Sample fresh seafood delicacies in cozy waterfront restaurants, such as grilled octopus or black risotto infused with squid ink. Don't forget to pair your meal with a glass of locally-produced wine for a complete culinary experience.
Attend a Traditional Concert
Enjoy Lastovo's cultural heritage at traditional concerts featuring local musicians playing traditional instruments like the mandolin and tamburica. These lively events will transport you to the heart of the island's rich musical history.
Capture the Island's Beauty
Explore the island's charming streets, snap a photo from a cliff by the sea, or capture the colorful Lastovo Carnival. There are many opportunities to take beautiful pictures!
Follow us
Subscribe to our newsletter and receive valuable updates on yacht charter information, the newest yachts available, and expert recommendations