Rovinj to Split
It's time to explore the stunning Dalmatian coast. This Rovinj to Split itinerary covers various landscapes: from the Adriatic Sea's blue waters to Croatia's mountainous countryside.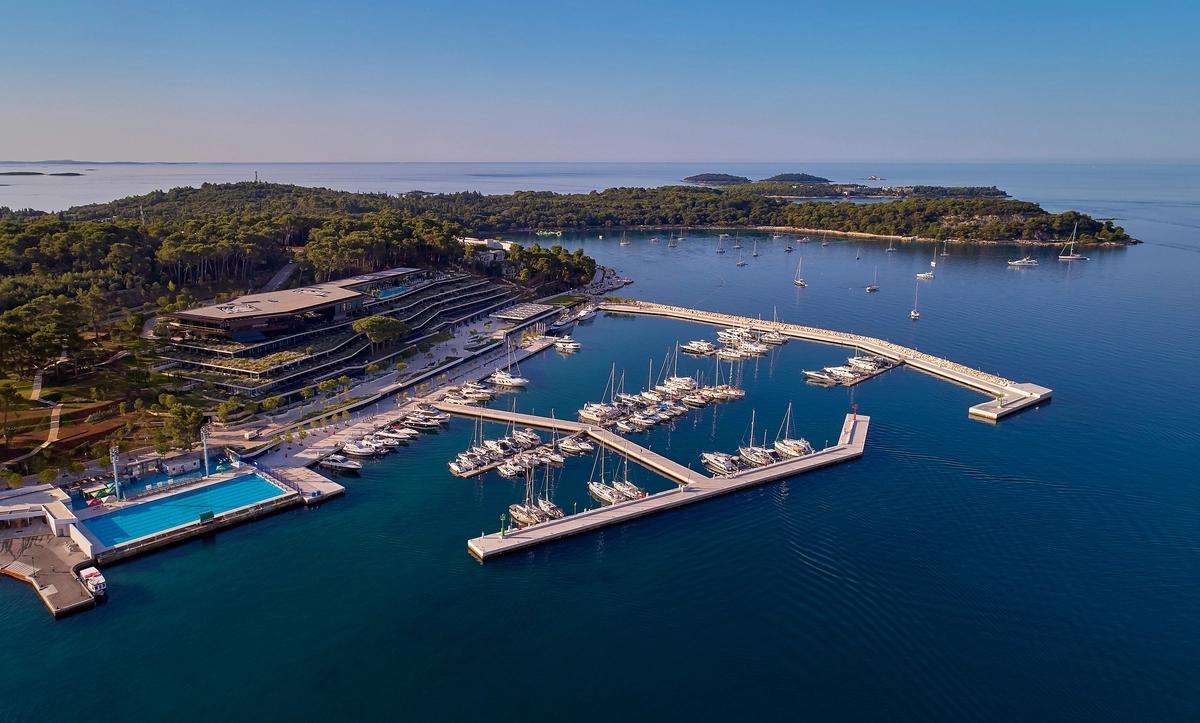 Discover historic sites like Rovinj Bell Tower, taste local dishes, and immerse in the region's rich culture. The Rovinj to Split itinerary is an excellent option for a remarkable Dalmatian coastal vacation.
Rovinj Croatia
Rovinj is a picturesque town on Croatia's western coast of the Istrian peninsula. With its narrow streets, colorful houses, and stunning views of the Adriatic Sea, Rovinj is often called the "Little Venice."
The Old Town is fascinating. Explore the historic buildings, shops, and seafood restaurants. Outdoor enthusiasts can hike, cycle, and go to the beach. There are several beaches where you can lay your beach towel and work on your tan.
Split, Croatia
Split is a coastal city in Croatia. It is also known for its ancient history, stunning beaches, and lively atmosphere. At the city center lies Diocletian's Palace, a UNESCO World Heritage site.
Experience Split and Marjan Forest Park from a unique perspective on a family-friendly sea kayaking tour, which offers stunning views, snorkeling in the crystal clear waters, cliff jumping, and other fun activities.
With its blend of history, culture, and natural beauty, Split is a must-visit destination for travelers seeking a unique Croatia yacht charter experience.
Sample Itinerary
Here's an incredible 7-night sailing cruise holiday on the Dalmatian coast from Rovinj to Split.
Day 1 | Embark in Rovinj
Set sail for a romantic getaway to Brijuni or Pula on the stunning coast of Istria (Croatia).
The breathtaking surroundings of the Istrian peninsula, nestled below the Lim Fjord, provide the perfect backdrop for a luxury escape.
With just two hours of sailing time, you can reach either destination. Then, spend a relaxing overnight stay.
Witness a fantastic natural appeal when visiting Brijuni's scenic town (and national park) or Pula's historic city.
Also, take in all the experiences from the most romantic place in the Mediterranean!
Tip: visit Rovinj Port, St Euphemia Cathedral, Rovinj's old town, Lim Fjord, Rovinj Heritage Museum
Day 2 | Brijuni or Pula to Mali Losinj
Sailing from Brijuni or Pula to Mali Losinj would require around five hours.
Visitors can spend an overnight in Mali Losinj.
It is one of the more popular Croatian islands. Losinj is also famous for its lush green vegetation.
Like Cres, this island was under Venetian rule until 1797, although its neighbor overshadowed it.
Tip: visit ADIDO (sculpture for seafarers), Aquapark Cikat, Fritzi Gallery – Museum of Losinj, Garden of fine scents, Losinj historical underwater park, theme viewpoint Providenca, Losinj's Maritime Heritage
NEREZINAC LUGGER FROM LOSINJ – Open-air Museum
Day 3 | Mali Losinj to Zadar
This route takes 4 hours of sailing. Spend the night in Zadar.
The city is irresistible for those who admire historical monuments.
It's also rich in cultural heritage.
Tips: Day trips to Plitvice Lakes National Park and the Kornati and Telascica National Parks. Admire the hidden beaches on Osljak Island, and relax at the Kostanj beach.
Day 4 | Zadar to Kornati Islands
It typically takes around 5 hours to sail from Zadar to the Kornati Islands.
Spend overnight in Kornati, an archipelago with 89 islands, islets, and reefs, with a sea area of 320 square kilometers.
In 1980, Kornati was declared a National park with a total surface area of 62 square kilometers.
Tip: Experience breathtaking cliff views, discover the magnificent Levrnaka island beach, and explore the picturesque bay during your boat trip to Kornati National Park.
Day 5 | Kornati Islands to Zlarin
From Kornati Islands to Zlarin, it would take about 4 hours of sailing.
Overnight in Zlarin.
Visit the Coral Pearl of Adriatic. It is a small island with only 270 inhabitants, famous for its red corals and sponges.
Tip: Go paddleboarding, sea kayaking, snorkeling, and deep-sea diving. Relax at Zlarin's beautiful beaches.
Day 6 | Zlarin to Trogir
To sail from Zlarin to Trogir by private yacht charter takes about three hours.
Guests can enjoy an overnight stay in this town.
Check out the museum, home to cultural and historical monuments, art displays, and original architecture.
Tip: Join a guided walking tour of the charming medieval Old Town of Trogir, snorkel in the clear waters of the Blue Lagoon, and discover scenic architecture.
Day 7 | Trogir to Split
It takes 2 hours to sail from Trogir to Split.
Stay overnight to explore Croatia's second-largest city and Dalmatia's largest urban center.
Split is home to the UNESCO-listed Diocletian's Palace, a 4th-century complex built by Emperor Diocletian.
Get lost in the streets filled with shops, restaurants, and cafes.
Visit the Church of St Domnius (a cathedral), the Bell Tower, and the Archaeological Museum.
Why Book a 7-Day Rovinj to Split Itinerary?
A 7-night Rovinj to Split itinerary is essential for everyone who desires a full Adriatic coastline experience.
The itinerary covers many destinations, from the charming town of Rovinj to the historic city of Split. You can explore hidden coves, swim in crystal-clear waters, and visit picturesque villages.
The itinerary includes stops at several of Croatia's most iconic islands, such as Hvar, Vis, and Korcula. You can sample the local cuisine, enjoy the nightlife, and soak up this beautiful country's rich history and culture.
Follow us
Subscribe to our newsletter and receive valuable updates on yacht charter information, the newest yachts available, and expert recommendations