Split to Dubrovnik
Welcome to an unforgettable yacht charter experience. This Split to Dubrovnik itinerary is a captivating journey along Croatia's stunning Dalmatian coast.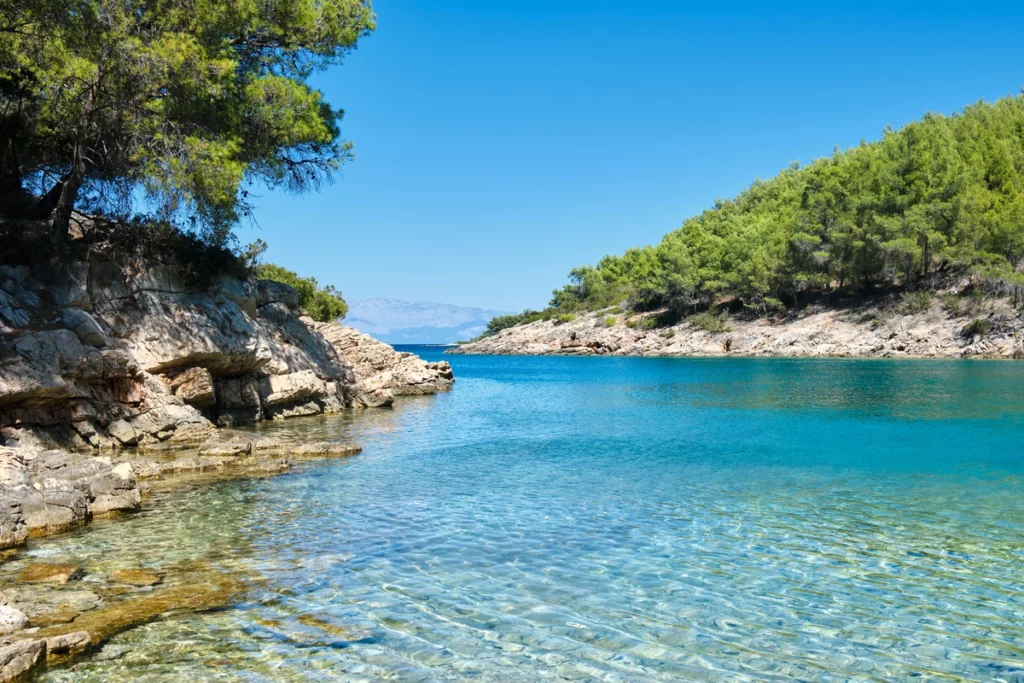 Embark on a luxurious yacht in the vibrant city of Split and set sail towards a series of breathtaking destinations. Each stop on this itinerary offers stunning landscapes, fascinating history, and genuine charm.
Indulge in the crystal-clear waters, explore ancient towns, and immerse yourself in the vibrant culture.
There is so much to enjoy on board your private yacht. There are comfortable, spacious cabins, exquisite cuisine, and an attentive, professional crew. Prepare for 11 days of pure bliss, where every moment creates lasting memories.
Best Time to Enjoy This Itinerary
The best time to embark on this captivating yacht charter itinerary from Split to Dubrovnik is during the summer. The best months are from June to September. Croatia is warm and sunny during this time, with temperatures ranging from the mid-70s to the low 90s Fahrenheit.
This period coincides with the peak tourist season, so expect more crowds and higher demand for yacht charters. Booking in advance is recommended to secure your preferred dates and ensure a seamless and memorable journey along the Dalmatian coast.
Best Yachts for this Split to Dubrovnik Itinerary
For your voyage, choose from power yachts, catamarans, and traditional sailboats. Each yacht type offers unique features and advantages, catering to different preferences and needs.
Power Yachts
Power yachts are excellent for those seeking speed, luxury, and convenience. With powerful engines, they offer faster cruising speeds, allowing you to cover more distance in less time. Power yachts are ideal for travelers who want to explore a larger area within a limited timeframe.
They often come equipped with luxurious amenities, spacious cabins, and ample deck space for sunbathing and socializing. Power yachts provide a smooth and stable ride, making them suitable for those who may be prone to seasickness.
Catamarans
Catamarans are renowned for their stability, spaciousness, and comfort. With two hulls, they offer excellent stability both at anchor and while underway. These yachts are popular for families or groups seeking a relaxed, smooth sailing experience.
Catamarans typically have larger interior and exterior living spaces, including multiple cabins, spacious lounges, and expansive deck areas. Their shallow draft allows them to access shallow anchorages and secluded bays that may be inaccessible to larger vessels.
Traditional Sailboats
Traditional sailboats exude charm, elegance, and a sense of adventure. These vessels offer a unique sailing experience. Traditional sailboats often feature classic designs, beautiful woodwork, and a cozy ambiance. They are best suited for those seeking a more authentic and hands-on sailing experience, where you can actively participate in hoisting sails and navigating.
Traditional sailboats may have fewer amenities than power yachts and catamarans, but they provide a sense of nostalgia and an opportunity to embrace the timeless allure of sailing.
Ultimately, the choice of yacht type depends on your personal preferences, group size, desired level of comfort, and sailing experience.
The Itinerary
Day 1 | Split – Maslinica (17 nautical miles)
Embark on your yacht in the vibrant city of Split. Once settled, set sail towards the island of Solta and head to the picturesque village of Maslinica. This tranquil destination offers a peaceful setting and beautiful beaches.
Enjoy the crystal-clear waters, indulge in water sports, or explore the charming village. Life aboard the yacht begins with a welcome briefing from the crew, who will provide information about safety procedures, amenities, and the itinerary for the journey.
Day 2 | Maslinica – Hvar (18 nautical miles)
Depart Maslinica and sail south to the stunning island of Hvar. Hvar town boasts a rich history and vibrant atmosphere. Explore the narrow winding streets, visit the imposing fortress, and enjoy the panoramic views from the hilltop.
Dive into the turquoise waters or relax on one of the many beautiful beaches. As you sail, take advantage of the yacht's facilities, such as the spacious deck areas for sunbathing and a dining area for enjoying gourmet meals prepared by the onboard chef.
Day 3 | Hvar – Vis (23 nautical miles)
Cruise from Hvar to the island of Vis, a secluded gem with pristine natural beauty. Go ashore in the charming Vis town. There is much to see and do in Vis, such as:
Stroll along the waterfront promenade,
Visit historical sites, such as the Archaeological Museum or the remains of a Roman thermal bath.
Go to a beach. Some popular beaches are Perna Beach, Okljucna Beach, Prirovo Beach, Stoncica Beach, Milna Beach, and Stiniva Beach.
Discover an ex-military submarine dock.
In addition to land-based adventures, your yacht provides various entertainment options at sea. Most private yachts have large lounge areas with comfortable seating, TVs, and sound systems for enjoying music and movies during the voyage.
Day 4 | Vis – Korcula (35 nautical miles)
Set sail towards the island of Korcula, the birthplace of the famous explorer Marco Polo. The town of Korcula is renowned for its medieval architecture, fortified walls, and narrow stone streets. Visit the Marco Polo Museum, indulge in local cuisine at waterfront restaurants, or relax on one of the stunning beaches.
Onboard the yacht, and take advantage of the water toys, such as kayaks, paddleboards, or snorkeling equipment. Some yachts also have on-board scuba diving.
Day 5 | Korcula – Lastovo (25 nautical miles)
Leave Korčula behind and sail to the remote island of Lastovo, known for its untouched nature and crystal-clear waters. Find a secluded bay to drop anchor and spend the day swimming, snorkeling, and sunbathing.
Enjoy the peaceful atmosphere and take in the breathtaking views. On your yacht, unwind in your ultra-comfortable cabin. Cabins have en-suite bathrooms, air conditioning, TVs, plenty of storage space,e and other amenities that ensure a pleasant stay during your yacht charter.
Day 6 | Lastovo – Mljet (40 nautical miles)
Continue your voyage to the island of Mljet, famous for its lush vegetation and tranquil lakes. Explore Mljet National Park, where you can take a boat ride to the picturesque St. Mary's Island and visit the Benedictine monastery.
Nature lovers can explore hiking or biking trails to discover the island's hidden gems. Back on the yacht, savor delicious meals prepared by the chef and enjoy the onboard bar for refreshing drinks and cocktails.
Day 7 | Mljet – Elaphiti Islands (25 nautical miles)
Sail towards the Elaphiti Islands, a small archipelago northwest of Dubrovnik. This group of islands offers scenic landscapes, hidden coves, and charming fishing villages. Anchor near the island of Lopud, known for its sandy beaches and lush gardens.
Stroll through the car-free village and visit historical sites like the Franciscan Monastery or Sunj Beach. Use the Wi-Fi connection onboard to share your experiences with friends and family.
Day 8 | Elaphiti Islands – Dubrovnik (10 nautical miles)
Today, head towards the crown jewel of the Dalmatian coast, Dubrovnik. As you approach the city, admire the impressive city walls and iconic red-roofed buildings. Explore the UNESCO World Heritage-listed Old Town. Walk along the famous Stradun Street and visit historic sites like the Dubrovnik Cathedral and the Rector's Palace there.
Experience the vibrant nightlife in the evenings and enjoy dinner at one of the many excellent restaurants. Onboard, the crew will cater to your needs, ensuring a comfortable and enjoyable journey throughout the charter.
Day 9–11 | Dubrovnik
Spend the next three days exploring the wonders of Dubrovnik at your leisure. With no sailing required, you can fully immerse yourself in the city's rich history, cultural attractions, and vibrant atmosphere.
Visit the Dubrovnik City Walls for stunning views of the Adriatic Sea, take a cable car ride to Mount Srd for panoramic vistas, or relax on the nearby beaches. Indulge in local delicacies, shop for souvenirs, or wander through the charming streets of this enchanting city.
Your dedicated, professional captain and crew will be at your service, handling navigation, cooking, cleaning, and assisting with any requests.
Basic Croatian Words and Phrases
Here are some basic Croatian words and phrases with their pronunciation to help you on your Split to Dubrovnik itinerary.
Hello: Bok (pronounced like "boh-k")
Goodbye: Dovidenja (pronounced like "doh-vee-jen-ya")
Thank you: Hvala (pronounced like "h-vah-lah")
Please: Molim (pronounced like "moh-leem")
Yes: Da (pronounced like "dah")
No: Ne (pronounced like "neh")
Excuse me: Oprostite (pronounced like "oh-proh-stee-teh")
Do you speak English?: Govorite li engleski? (pronounced like "go-vo-ree-teh lee en-gle-ski?")
How much does it cost?: Koliko Kosta? (pronounced like "koh-lee-koh koh-sh-tah?")
I would like: Ja bih (pronounced like "yah bee")
Follow us
Subscribe to our newsletter and receive valuable updates on yacht charter information, the newest yachts available, and expert recommendations