Opatija
With its pristine coastline and azure waters, Croatia is a haven for yachters seeking a dreamy destination to drop anchor. One gem along the Adriatic Sea is ACI Marina Opatija, in Icici, near Opatija. Known for its top-notch facilities, ACI Marina Opatija is a premier destination for boating enthusiasts seeking an unforgettable experience.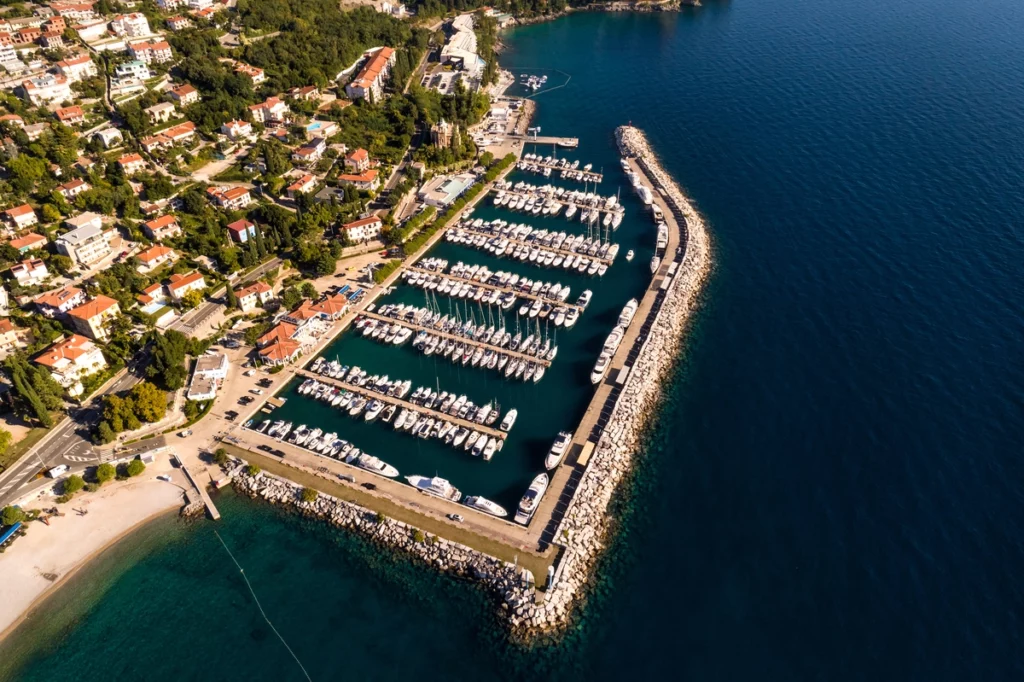 Amenities and Facilities
ACI Marina Opatija offers a range of amenities and facilities to cater to the needs of yachters. There are 280 berths for boats measuring up to 40 meters. The marina is open year-round and offers safe and secure berthing with 24/7 security surveillance and on-site staff.
The marina provides essential services such.
Water
Electricity
A fuel station
Waste disposal
Free WiFi
Showers
Bathrooms
Laundry facilities
Chandlery.
Restaurant
Nearby Activities
Stroll the Promenade
The marina is ideally located for exploring the surrounding area. Opatija is a charming coastal town known for its historic architecture, beautiful gardens, and vibrant cultural scene. Stroll along the promenade, known as the Lungomare.
Visit Ucka Nature Park
Nature lovers can visit the nearby Ucka Nature Park, just a short drive from Opatija. The park is home to the Ucka mountain, offering hiking and biking trails with stunning views of the Kvarner Bay and the Istrian Peninsula.
Explore History
Opatija has several museums and historical sites for those interested in history and culture. Visit the Croatian Museum of Tourism and the Villa Angiolina, a historic villa once a popular destination for European aristocracy in the 19th century.
Island Hop
ACI Marina Opatija is also a convenient starting point for exploring the nearby islands of Krk, Cres, and Rab. These islands have pristine beaches, crystal-clear waters, and rich cultural heritage.
Restaurants
Ruzmarin Opatija
Located within walking distance from the marina, Ruzmarin Opatija is a popular restaurant known for its delicious Mediterranean cuisine. With a cozy atmosphere and a picturesque terrace overlooking the sea, Ruzmarin Opatija offers a memorable dining experience. Dishes include fresh seafood, grilled meats, and homemade pasta.
Plavi Podrum Volosko
Just a short drive from ACI Marina Opatija, Plavi Podrum Volosko is a renowned seafood restaurant in the charming fishing village of Volosko. Known for its exquisite seafood specialties, including fresh fish, shellfish, and crustaceans, Plavi Podrum Volosko offers a fine dining experience with a stunning view of the Adriatic Sea.
Bevanda Opatija
Another upscale dining option near ACI Marina Opatija is Bevanda Opatija, a renowned restaurant known for its gourmet cuisine and elegant ambiance. Located in a historic villa overlooking the sea, Bevanda Opatija offers a refined dining experience with a menu combining Mediterranean and international flavors and an extensive wine list.
Konoba Tramerka
Konoba Tramerka is a cozy tavern in Opatija, just a short stroll from ACI Marina Opatija. Serving authentic Croatian dishes made with locally sourced ingredients, Konoba Tramerka offers a warm and welcoming atmosphere with a rustic charm, perfect for a casual and hearty meal.
Le Mandrac
Situated in the nearby town of Lovran, Le Mandrac has a cozy interior and a terrace overlooking the sea; Le Mandrac offers a casual dining experience with a menu focusing on local seafood specialties, including grilled fish, squid, and scampi.
Follow us
Subscribe to our newsletter and receive valuable updates on yacht charter information, the newest yachts available, and expert recommendations