Pomer
ACI Marina Pomer is in the picturesque town of Pomer, near Pula, Istria. It is a premier marina that offers top-notch facilities and services. Discover what makes ACI Marina Pomer the ultimate sailing destination in Croatia.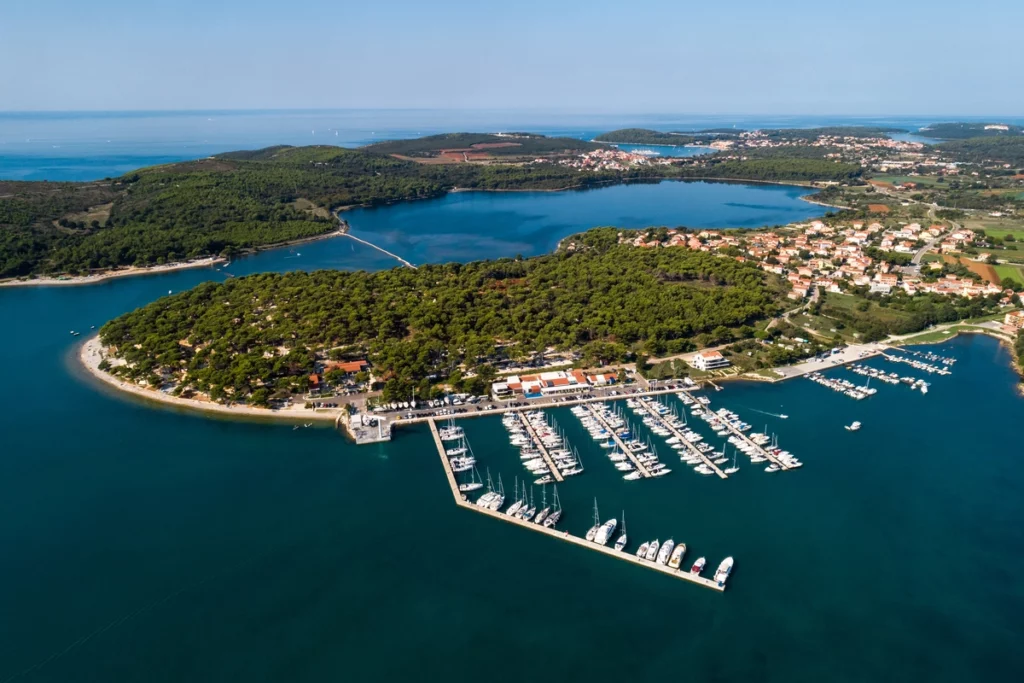 Stunning Location
ACI Marina Pomer is in a stunning location on the southern coast of Istria. Lush greenery and beautiful beaches surround the marina, which is in a natural bay. Moreover, the marina is easily accessible by sea and land, with excellent road connections to nearby airports.
World-Class Facilities
ACI Marina Pomer boasts world-class facilities catering to modern yachters' needs. The marina offers 307 berths that accommodate vessels up to 40 meters long. The berths have water and electricity connections.
The marina's facilities include a swimming pool, playground, modern showers, bathrooms, laundry, a nearby grocery store, and a well-stocked chandlery. There is also a yacht club where you can socialize with fellow yachters.
Unmatched Services
ACI Marina Pomer takes pride in offering unmatched services to its guests. The marina's dedicated staff is available 24/7 to provide assistance and ensure a smooth and enjoyable sailing experience.
Stunning Surroundings
ACI Marina Pomer is ideally located for exploring the stunning surroundings of Istria and the Adriatic Sea. The marina is close to the vibrant town of Pula, with its charming streets, shops, and restaurants. You can also visit Brijuni National Park, a group of islands with beautiful beaches and rich cultural heritage.
Croatian Hospitality and Cuisine
One of the highlights of visiting ACI Marina Pomer is experiencing the warm Croatian hospitality and delicious local cuisine. Istria is renowned for its gastronomic delights, including fresh seafood, truffles, and olive oil. You can savor the local flavors at the marina's restaurant or explore the nearby coastal towns and restaurants.
Activities
ACI Marina Pomer is in a region of Istria that offers many activities. Here are some of the activities you can do near the marina:
Explore Pula
Pula is a vibrant town known for its rich history and ancient Roman ruins. Visit the iconic Pula Arena, a well-preserved Roman amphitheater that hosts concerts and events; You can also explore the Roman Forum and Temple of Augustus.
Brijuni National Park
Just a short boat ride from ACI Marina Pomer, Brijuni National Park is a group of islands known for their natural beauty. Take a guided tour of the islands, visit the Brijuni Safari Park to see exotic animals, or enjoy the beaches.
Beaches and Water Sports
Istria's coastline has beautiful beaches, and ACI Marina Pomer is ideally located for exploring them. You can relax on the sandy beaches, swim in transparent waters, or enjoy water sports such as kayaking, paddle boarding, or windsurfing.
Diving and Snorkeling
Diving and snorkeling are popular activities since the Adriatic Sea teems with marine life and underwater beauty. You can explore underwater caves, shipwrecks, and colorful coral reefs and encounter various fish and marine creatures.
Wine Tasting
Istria is famous for its excellent wines, and you can indulge in wine-tasting tours in the nearby vineyards. Sample local wines like Malvazija and Teran and learn about the region's winemaking traditions.
Cycling and Hiking
Istria offers scenic landscapes and picturesque trails, perfect for cycling and hiking enthusiasts. Rent a bike, explore the countryside, or go on a guided hiking tour.
Cultural Exploration
Explore charming towns such as Rovinj, Porec, and Motovun, known for their medieval architecture, cobbled streets, and cultural festivals. You can also visit local museums, art galleries, and cultural events to immerse yourself in Istrian culture.
Restaurants
Restaurant Ribarska Koliba Pjero
Located just a short distance from ACI Marina Pomer, this waterfront restaurant offers a picturesque setting and specializes in seafood and grilled dishes.
Restaurant Feral
This family-friendly restaurant is known for its warm hospitality and traditional Istrian cuisine. The menu features a variety of meat and seafood dishes, including grilled meats, homemade pasta, and fresh seafood. The cozy ambiance and friendly service make it popular among locals and tourists.
Konoba Batelina
A renowned seafood restaurant in the nearby village of Banjole, Konoba Batelina is famous for its unique and innovative culinary creations. The menu features locally caught fish and shellfish prepared creatively.
Restaurant Vodnjanka
Situated in a historic building in the heart of Pula, Restaurant Vodnjanka offers a blend of traditional Istrian and Mediterranean cuisine.
Restaurant Puntizela
This cozy family-owned restaurant is near the marina and offers a warm and welcoming atmosphere. The menu features a range of Croatian and Mediterranean dishes, including fresh seafood, grilled meats, and homemade pasta. The friendly service and affordable prices make it a popular choice for a casual and satisfying meal.
Follow us
Subscribe to our newsletter and receive valuable updates on yacht charter information, the newest yachts available, and expert recommendations